The best way to have consumers remember and form a connection with your brand is to have them interact with it directly. Some examples of this would be providing the consumer with a positive customer experience inside a retail outlet or by hosting a some sort of competition involving your brand. However, with a bit of creativity and the right marketing team, you can get consumers to interact with your brand through the medium of billboards. We've collected a list of some of the most inspiring ones that have caught our attention.
L&P Summer Swag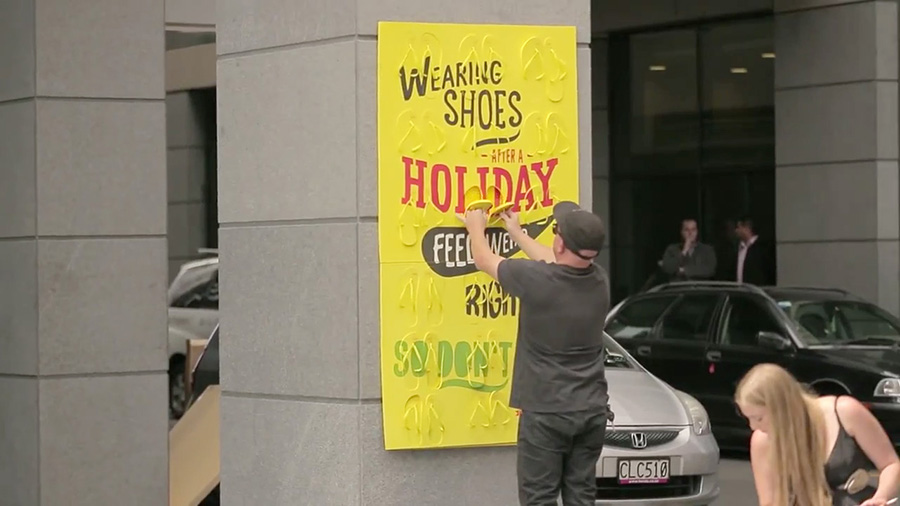 The biggest obstacle when it comes to interactive billboard is the interactive part. What is the billboard supposed to interact with and how does it interact with that thing? The goal is often to get consumers to interact with the billboard, but in order to do so the proper motivation must be in place. There has to be some sort of reward that one can gain from taking an action.
While similar in concept to the Burt's Bees ad we've covered previously, New Zealand soda company L&P goes a step further by upping consumer motivation with better rewards.
This L&P billboard gives everyone who interacts with it a free wearable merchandise. On top of being an effective ad, the merchandise provided by the billboard continues to remind the consumer of the brand.
Nike's UNICEF Treadmill Billboard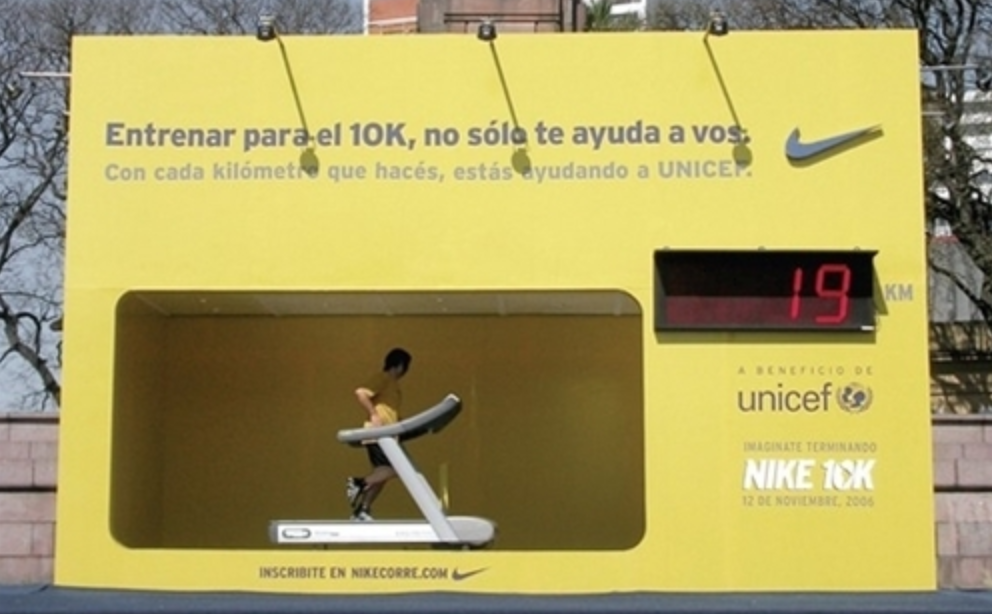 Many interactive billboards generally rely on the use of an app or website which can be accessed from a smartphone. This billboard however is powered by your feet! And legs. And rest of your body.
Nike teamed up with UNICEF in order to publicize a 10k run in Argentina, they partnered up with while also spreading philanthropy. They set up a three dimensional billboard that was linked up to a treadmill. The treadmill would track the distance run and send the information back to the billboard, which would display the number
The piece that ties everything together is the motivation given to the audience. For every kilometer run, Nike promised to donate a set amount of money to UNICEF. Given the billboard's timing right before Nike's 10k, preparing for the run using this billboard's treadmill would directly end up helping others in need.
Bustop's Naughty Peekaboo
From Marilyn Monroe's famous sewer grate picture to countless cartoon chases, the concept of a skirt accidentally being lifted up by the wind has proven itself a truly timeless gag. Unlike Marilyn Monroe however, lingerie company Bustop actually wants you to see what's under their skirt.
This clever ad relies on the wind to blow up a physical over sized skirt placed on the billboard. While it might seem a little counter-intuitive and over reliant on weather conditions, it is actually more reliable than it looks. Districts densely packed with tall buildings will often act as wind tunnels, increasing the speed at which the wind passes. Placed in the right spot, this ad will do its job consistently and with style.
Prigat Smile Stations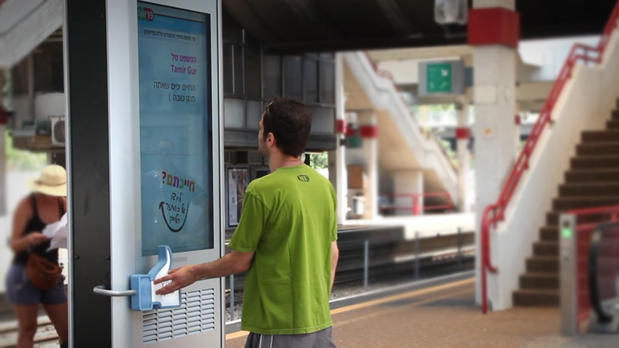 When you're having a bad day, sometimes all it takes is a kind word in order to make you feel a bit better. Whether it's a compliment from a stranger or a joke made by a friend, a small amount of joy goes a long way. Israeli juice company Prigat teamed up with famed branding firm Publicis in order to test out this concept and spread some happiness.
These billboards, dubbed "Smile Stations" by Prigat, were set up in train stations dotting Israel. The idea for the smile stations were to have an interactive billboard which provided amusing or uplifting content to anyone who passed by. Instead of just having the billboard spout inane, cookie cutter compliments, Publicis and Prigat instead decided to let consumers create the content themselves.
People who liked Prigat's page on Facebook were invited to post content with the intention of making the reader smile. This content was then sent to the smile stations for passerby to see and interact with. If someone looking at the billboard enjoyed the content, they would be able to hit a physical Facebook "like" button on the smile station which would then capture their expression.
https://www.bmediagroup.com/news/wp-content/uploads/2017/08/Nike-Unicef-Treadmill-Billboard.png
614
992
AdminBMedia
https://www.bmediagroup.com/news/wp-content/uploads/2020/07/logo-bmedia-color.png
AdminBMedia
2017-08-21 07:19:32
2017-08-23 13:30:31
The Best Interactive Billboard Campaigns