In October of 2012, personal care products company Burt's Bees created a unique interactive billboard campaign for their new Intense Hydration line. The billboard is not your typical billboard; Burt's Bees got creative, redefining billboards and how customers interact with them. As a result, the campaign was quite successful. What was the Burt's Bees Intense Hydration billboard campaign all about, and what made it so successful?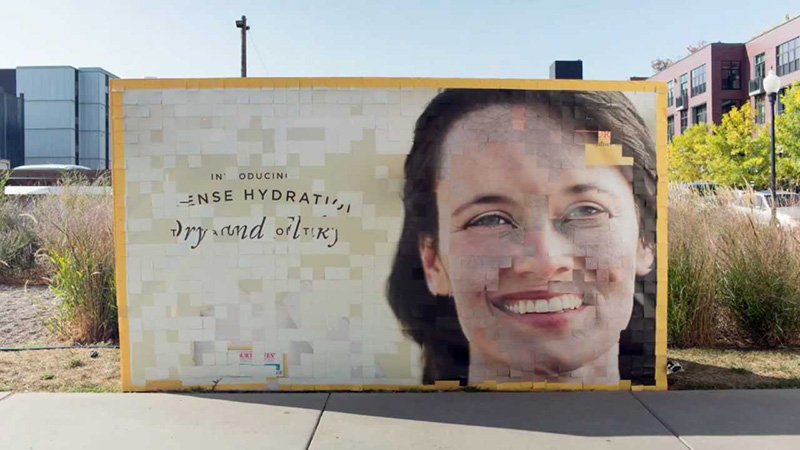 Background
"Instead of showing a side by side comparison of the same woman before using the Intense Hydration skin line and after, this campaign gets a little more creative." — Meghan Young, trendhunter.com
The campaign takes place along the busy street life of Minneapolis, where Burt's Bees had decided to construct a billboard using thousands of coupons. This requires the team to attach each coupon to the board one by one; when put together, the coupons show the image of a woman with dry skin. After the billboard is done, the crew sets it up on a busy street.
Once the billboard is up, several curious passersby stop at it and peel off coupons over the course of the day. As the coupons come off, the billboard eventually reveals a different image of the same woman underneath, now smiling and with a more vibrant complexion, obviously happier than before, presumably in order to show the intended effect of using Intense Hydration products. Why did this campaign get such a positive response?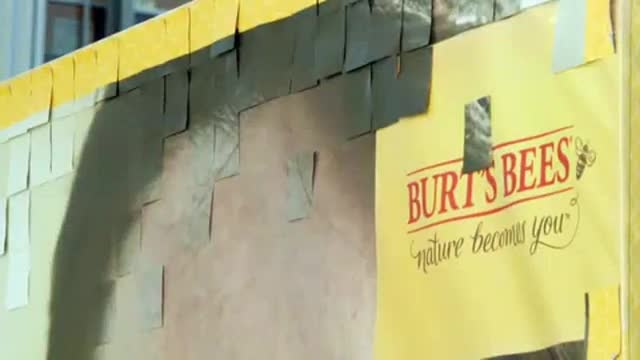 1. It takes a unique approach.
In the past, Burt's Bees also worked with its agency Baldwin& to celebrate Earth Day with a unique "music video" that incorporated sounds of several common ingredients found in Burt's Bees' products.
For starters, Burt's Bees reimagines the typical, run-of-the-mill advertising campaigns and gets creative, doing what other players in the industry haven't done before. People tend to get desensitized to predictable, generic marketing strategies and tune out anything that's ordinary. Burt's Bees makes a memorable impression by taking the boring old "before and after" and adding a unique element by using detachable coupons to show a gradual transition from the "before" to the "after" stages instead of showcasing a simple static side-by-side comparison or something similar.
2. It engages and rewards other people.
Burt's Bees uses their billboard to interact with actual people, helping to boost the campaign's message.
Traditional billboards are rather passive and one-sided in their communication, expecting nothing but for people to stop and read the billboard. After Burt's Bees' team members put together the billboard in an interactive way (read: setting it up with a layer of detachable coupons), they get actual people to interact with their advertising, peeling off the coupons and eventually showing the result. Getting real, genuine people to interact with the billboard strengthens the campaign's message as well as rewards these individuals with $3 discount coupons, in this case.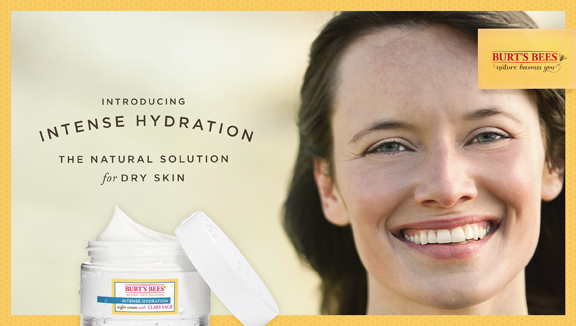 3. It shows, not tells.
Burt's Bees lets their campaign show consumers the potential of their product instead of merely telling them about it.
Far too many brands market their products in a way that merely tells the audience how great their product is, instead of actually showing it. Burt's Bees sets up a superb unique before-and-after demonstration that sends a powerful message effectively without needing to fill the billboard with superfluous information. Not to mention that the coupons Burt's Bees used were printed on post-consumer recycled content and the billboard they used was printed on recyclable nylon. This eco-friendly position, even behind the scenes, sets a stellar example and aligns with Burt's Bees' dedication to using all-natural products.
After the campaign, Burt's Bees released a video that shows the creation of the billboard and the actual campaign in action.
https://www.bmediagroup.com/news/wp-content/uploads/2017/06/Dry-and-Flaky.jpg
450
800
AdminBMedia
https://www.bmediagroup.com/news/wp-content/uploads/2020/07/logo-bmedia-color.png
AdminBMedia
2017-06-23 10:50:53
2017-06-23 10:51:30
A Billboard of Coupons from Burts Bees