There's nothing better than catching some sunshine on a hot day at the beach.  But, after some time lounging, swimming in the ocean, and digging in the sand, there are two things you want:  A cold shower and a refreshing drink. Most companies skip straight to the second part of this consumer need, but one was thinking outside of the bottle with a guerilla marketing campaign.  And it worked.
The Sprite Soda Shower
This whole event was part of a outdoor media campaign in 2012 that the Coca-Cola Company used to help promote Sprite.  Essentially, they built a giant soda dispenser complete with the famous green and yellow logo of the lemon-lime drink, and they invited people to stand where the cup would usually go.  Once the beachgoer pushed back on the giant lever, a shower would rain down on them.
The best and worst news about the campaign is that it only poured water, not Sprite.  Less refreshing, but also less sticky people. They mixed the giant contraption with the opportunity for people to have samples of the soda, and it created quite a stir.  Since the summer days on the crowded beach in Brazil could get up to 40°C, there were a lot of people looking for something to cool them down. It managed to shower more than 1,500 each day that it was in place, and you can be sure that these people made an association in their mind with that green label.
But, Why Wash All Your Potential Customers?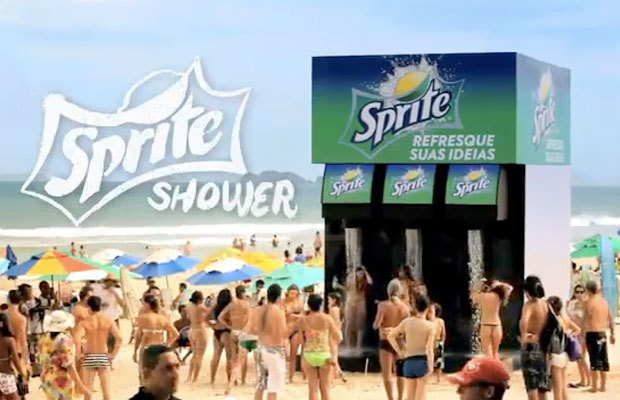 If you're selling drinks, this sounds like a fairly silly tactic.  Why wouldn't you just spend the money on samples of your product, and then freely pass them out all over the beach? Well, that sort of strategy can work, but this was better for many reasons. First, it was talked about.  No one rushes home and tells their friends about having a free drink, but they are quick to share their story of becoming a soda.
Next, it created important mental associations.  If potential customers are just handed a drink on a hot day, they'll down it and not think twice.  But, if they physically feel refreshment both outside and inside of their body, they're much more likely to associate that brand with a positive feeling.  And that's the kind of thing that will make a difference when they're staring at a fridge full of competing brands. Also, this gives identity to a brand.  The other companies may make fine products at similar prices, but this one is playful.  When happy people head out for a day in the sand, they want to take some brands with them that match their attitude.
What Was the Reaction of the Advertising World?
In short, it was positive.  That's a big part of the reason that we're still talking about this campaign a few years later.
The agency behind the giant soda shower was Ogilvy Brazil, and they were quite praised for the idea. It was quite talked about at the Cannes Lions International Festival of Creativity where it won multiple awards, and it even took home a gold in one category.
Sprite is Used to Being the Cool Kid
It's definitely worth noting that this stunt fits in well with the brand image that the soft drink has been working on for years.  Sprite has made a name for themselves over time as being trendy and making sure that the younger generations know they'll be stylish if this is what they're drinking.  They've had a lot of basketball, hip-hop, and street art in their campaigns, so they fit right in placing themselves in the middle of a beach party.
Time to Shower Your Customers with Attention
One of the biggest takeaways from this campaign is that marketing really comes down to creative solutions, and it's about much more than just getting the word out.  It can be fairly expensive to invest in many forms of advertising, and this causes many people to hesitate about getting the word out.  But, sometimes a campaign can be about getting your customers to decide why they like you, and then make sure this new fact sticks into their mind.  It might not get them to drop what they're doing and run to the store, but it can be a big part of building a loyal customer base throughout the years.
If you don't want to build a giant soda machine but still want to show some love to your customers, then try to think outside of the box.  And don't worry if you're having a slow day in the creative part of your brain, just give us a call and we're happy to help.
What do you think of the Sprite Shower?
https://www.bmediagroup.com/news/wp-content/uploads/2016/03/Sprite-Shower.jpg
400
620
AdminBMedia
https://www.bmediagroup.com/news/wp-content/uploads/2020/07/logo-bmedia-color.png
AdminBMedia
2016-03-28 20:49:23
2016-12-16 17:09:58
A Giant Soda Machine Shower