By no means is it an exaggeration to say that the Coca-Cola Company is one of the largest companies on Earth.  In fact, it was listed as the world's third most valuable brand in 2015. And it's been going strong since its introduction in 1886. It may be a company valued at $83.84 billion, but that doesn't mean that Coca-Cola's only focus is on getting bigger.  In fact, one recent ad campaign was built around making things tiny.  Really tiny. The product they were selling was mini cans of Coke, so they had to do something to keep with a theme of being smaller than normal.  They couldn't be overly dramatic and shrink the world, but they could shrink the shops that sold the drink.  And they did.
The Big Scoop on Coke's Little Ad
The campaign in question was played out in five different major cities throughout Germany.  Basically, Coke installed sales kiosks that looked exactly the same as the hundreds of others that the city dwellers would wander past that day, except these new ones were very small, and they had a mini machine and a person inside.  The vending machine was the right size to still pop out the new 150 ml can, but it looked more like something that elves would shop at.
Interestingly, the shops were fully functional, and they sold many different mini products.  But, the whole setup was designed in a way that would showcase the little cans of Coca-Cola.
The only exception to the tiny plan was the person inside.  These vendors were a normal height, but they were positioned in such a way that kept them at the same level as the counter.  It was brilliantly put together in a way to keep the illusion alive.
Unfortunately, these mini kiosks were only there for a temporary time in 2014, so you don't have the chance to hop over to Germany and go visit them.  But, they made sure to give you a way to visually relive the experience.  They did this by also creating some print ads showing the kiosk as well as a video that could be shared online.
Why This Little Stunt?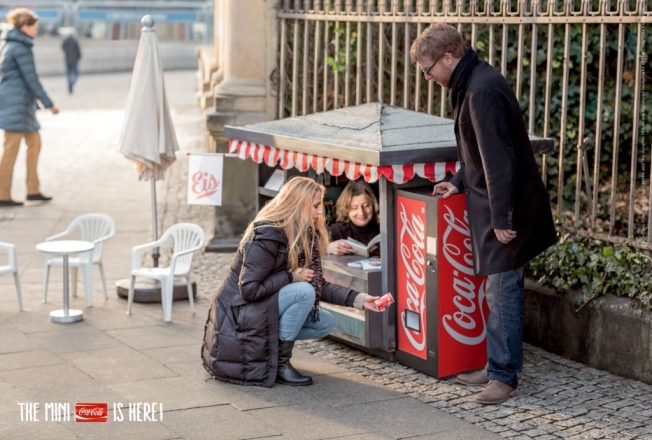 This whole campaign was built around a central motto: "It's the little things in life that make us happy."  So, it wasn't about spreading the knowledge, sampling a new flavor, or rambling on about some new innovative production process.  Instead, it really just aimed to show people that they could be happy, even from the littlest things.  Such as a 150 ml can of Coke.
Instead of going big and corporate, they decided to use guerrilla marketing in a localized location.  They anticipated that people would get a kick out of it, and they wanted to take advantage of social sharing to spread the message.
And, as always with Coca-Cola, they wanted to improve the customer experience and keep on building up that brand.
Outdoor Media for an Indoor Product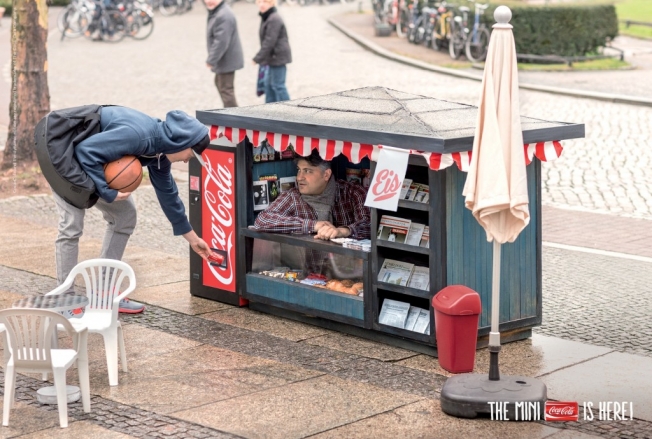 Soft drink companies generally fight viciously over interior space for their advertising, but this campaign shows it doesn't have to be that way.  Coke easily could have made some big stunt inside of the stores, and they did put a lot of marketing materials there, but not this particular campaign.
Sometimes advertising a product where consumers don't expect it is a great way to get noticed.  This really stood out because the scene was so typical, but so different, that people couldn't help but notice.  It really broke through all of the noise of the competing advertisements.
Of Course It Won Advertising awards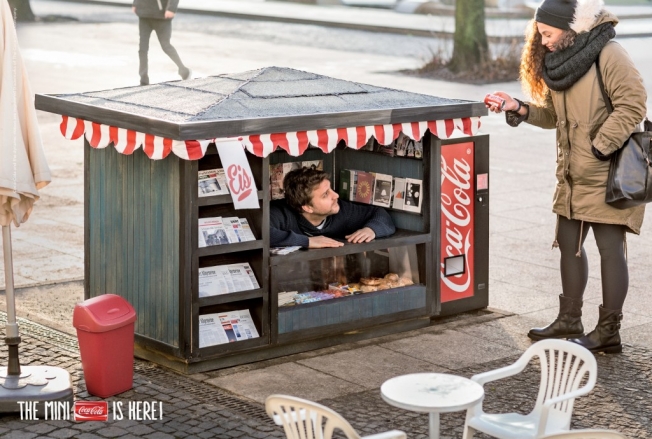 It wasn't just the Coca-Cola Company that came up with this idea, and the advertising agency behind it was Ogilvy & Mather Berlin.  They were pretty proud of the results, and among other awards, they walked away with multiple honors in the 2014 Cannes Lions International Festival of Creativity.
Coke's Strategy is Diverse
They've had polar bears, athletes, normal people, and even Santa Claus as spokespeople for their drinks, but, most of those live in print ads and on television.  So it was refreshing for everyone involved to see a campaign get into the great outdoors.
Also, they're still at it with the mini ads.  This year they ran a Superbowl spot featuring the Hulk and Ant Man (two Marvel characters), and they engaged in a big chase to see who could get the little Coke.
As Always, Coca-Cola Builds Their Brand
On average, there were about 380 of the mini cans sold each day of the campaign, and that's a 278% increase of normal vending machine sales.  But, that wasn't the point.  The main goal was to contribute to their overall brand image, and it really had to meet their claim that Coca-Cola will "open happiness."  It stuck out to customers and gave them the feeling that Coke is fun, relevant, and something that makes them happy.
It doesn't matter what your product or service is, there's always a way to use outdoor media to strengthen a brand as a whole.  Are you taking advantage of that?  If not, feel free to contact us today.
https://www.bmediagroup.com/news/wp-content/uploads/2016/04/coca-cola-mini-kiosk-1.jpg
439
652
AdminBMedia
https://www.bmediagroup.com/news/wp-content/uploads/2020/07/logo-bmedia-color.png
AdminBMedia
2016-04-13 00:06:19
2016-12-16 17:06:56
Coke's Mini Ads for Huge Results!