In the world of marketing promotions and giveaways, not all are competitors are equal. Prizes and discounts are given out for many reasons, and it's a popular strategy to grow a business. Some giveaways want to generate buzz, others try to get customers in the store, and some even just try to clear out old merchandise.
But, there's almost always a better strategy for business promotions then just randomly picking a person and handing them a gift. It takes time and effort, but it can really bring rewards.
One promotion in Sweden used a billboard as part of the process, and the whole situation really got some hearts racing.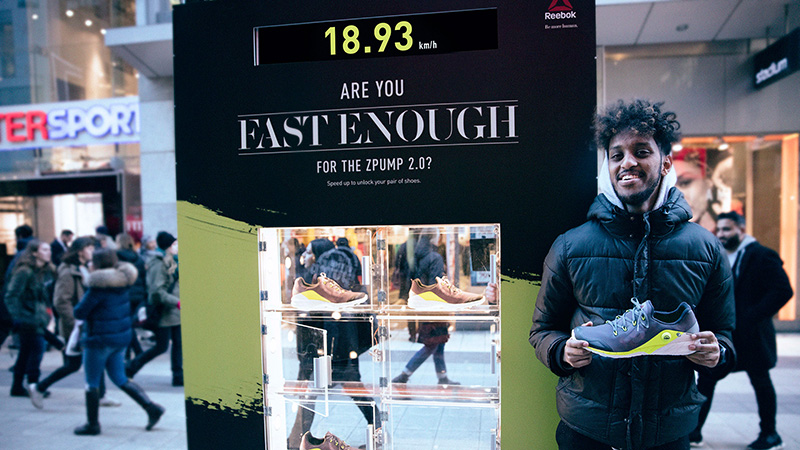 The Reebok Running Billboard
The billboard we're talking about was assembled on a crowded shopping street in Stockholm, Sweden. But, instead of just being images and text, it basically looked like a display case full of locked plastic boxes housing the new ZPump 2.0 shoe model.
And, customers could win it.
There was a speed camera set up on top of the sign, and it would track exactly how fast people were running as they went past it. It had a digital display to show the number, and they were trying to top 17 kilometers per hour.
If they were successful, a green light would turn on, and they could open a box to take out a shoe. If not, a red light sadly announced their defeat. The winners could trade the shoe in for their own size of the new model.
Encouraged Them to "Be More Human"
The relatively new tagline of Reebok is "Be More Human," and the whole point is to show that people get scrapes, worn out shoes, and much more when they're pursuing strong fitness goals. It encourages them to push themselves to their limits, and embrace the pain along the way.
It's a brand that's really been working to reinvent its image, and this sign matches with it perfectly. People don't just get handed something, but they have to earn it. And, they don't do it on an athletic field under perfect conditions. Instead, they do it in an everyday situation where they may or may not be wearing running shoes (it's a lesson to always lace up the Reeboks in the morning!).
Winning Works in This Industry
The industry that houses fitness clothes and running shoes is fast and exciting, and it's basically powered on adrenaline. Companies in this area have long known that hosting and sponsoring events and competitions will get them noticed. They slap their names on marathons, get their logos on sports teams, and make sure famous athletes mention them at the same time that they win something.
They need to be associated with successful sports, and it really helps if their name is directly attached with a competition. But, nothing's better than customers remembering the feeling of winning when they think about a fitness brand.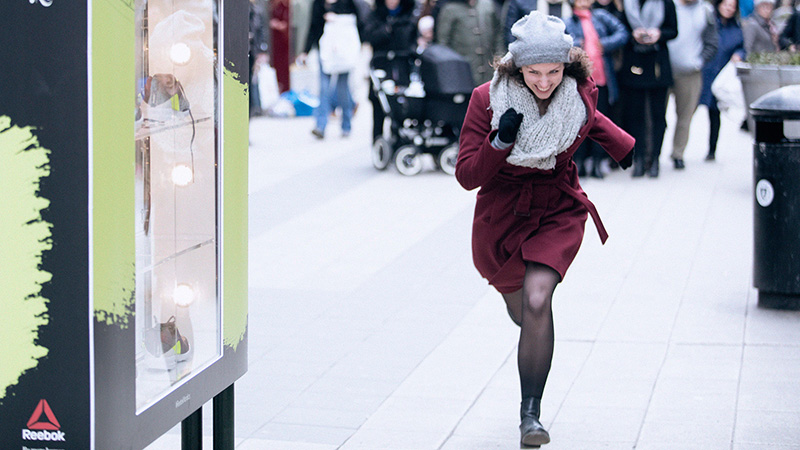 Customers Are Competitive
Some people run because they want to lose weight, others because it relaxes them, but most simply run because they have a competitive nature. The message that this billboard conveys fits right into that, and it doesn't even need the costs and challenges of hosting a major event to make it happen.
Plus, it works from another monetary point of view. Prizes are only rewarded if people participate, so there's no risk to hosting it.
Using Technology With Billboards Is a Plus
Billboards are a very old advertising medium, but technology has carried them directly into modern times. Technology isn't required for great billboards (some of the all-time greats were very simple), but it's a great way to add interaction. Without some sort of innovative feature, people are just viewers of signs. But, when they become more involved with the billboard, they feel like they're part of something and become more loyal to the brand.
Don't Go With a Gimmick
Before you start to think about interactive electronics, keep in mind that one of the risks of exciting technology is the temptation to make something just because you can. This Reebok sign kept with a common theme that they like to portray, and that's what made it so great and memorable. The difference between a gimmick and a brilliant idea usually just boils down to how relevant it is to the brand.
Let's Run Together!
Whether you're a running shoe company or not, there are some clever ideas like this one that your organization can use. We've helped plenty of businesses create their masterpieces and pass the messages to their customers, and we're eager to keep pushing the limits. Get in touch, and we'll run through your ideas together!
https://www.bmediagroup.com/news/wp-content/uploads/2017/03/Are-You-Fast-Enough-Reebok-Billboard.jpg
450
800
AdminBMedia
https://www.bmediagroup.com/news/wp-content/uploads/2020/07/logo-bmedia-color.png
AdminBMedia
2017-03-22 13:49:29
2017-03-22 13:50:08
Are You Fast Enough? Reebok Running Billboard