Billboards are a popular advertising medium because they're a great way to get a simple message to a lot of people quickly and affordably. They can target people based on the location where they will be viewed, and they often have a captive audience who has no choice but to notice the sign.
But, in the internet age, are they becoming less useful? Do we depend on electronic targeting and digital technology to get our point across?
No, not with a little creativity. In fact, one recent campaign of Spotify funny ads is a perfect example of how outdoor advertising can be even more successful than something posted online.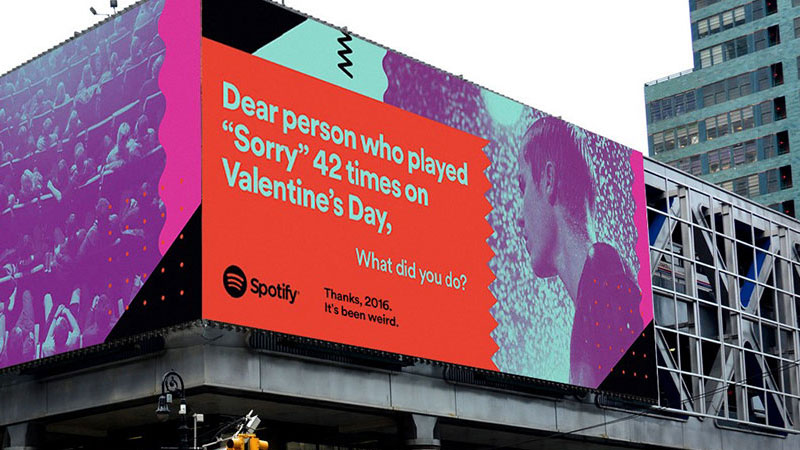 Thanks 2016, it's been weird
In November of 2016, the online music streaming service Spotify launched a global campaign of funny ads using billboards. Each sign contained messages that were localized for the markets where they appeared. The messages were crafted using Spotify data to find what people were listening to, and they often matched with specific and memorable events that occurred that year. Then they added in a strong mix of humor to make sure they were entertaining, and splashed them proudly on billboards.
Some messages were specifically for the local audience, such as this one in the UK:
"Dear 3,749 people who streamed "It's The End Of The World As We Know It" the day of the Brexit vote, Hang in there."
Others showed where the data came from, but still could work anywhere in the world, like:
"Dear person in L.A. who listened to the "Forever Alone" playlist for 4 hours on Valentine's Day, you ok?"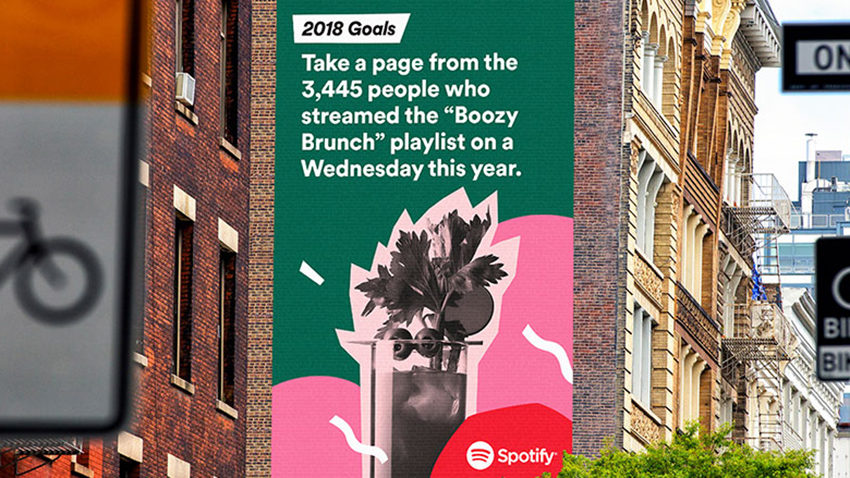 Indirect Brand Advertising
One thing you'll notice about these Spotify funny ads are that they don't say anything specific about what Spotify does. They all refer to people listening to songs, so they imply that the company has something to do with playing music, but it doesn't have any other information about why you would want to use the service. They assume that everyone who would use them to stream music already knows about their offering and how it works, or is smart enough to pop the name into a search engine.
This saves valuable real estate on the sign to show the new look of their brand, and it doesn't distract from the humor.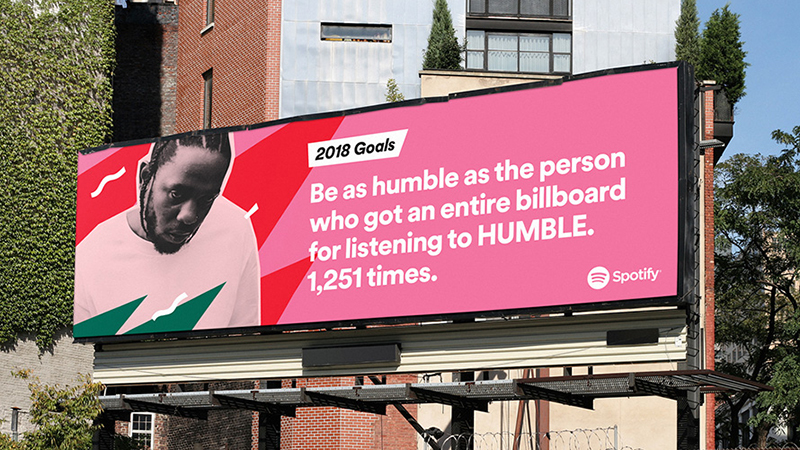 Showing Their Fun Side
One of the biggest reasons that companies go with ads that deliver some sort of emotion is because they give personality to a brand. This works in the case of Spotify, because one of their main purposes is to offer entertainment. These signs weren't music to your ears, but they probably caused you to laugh a little bit. This adds to an overall image of a company that will make you happy, and you'll subconsciously remember that when choosing which website to get your music from.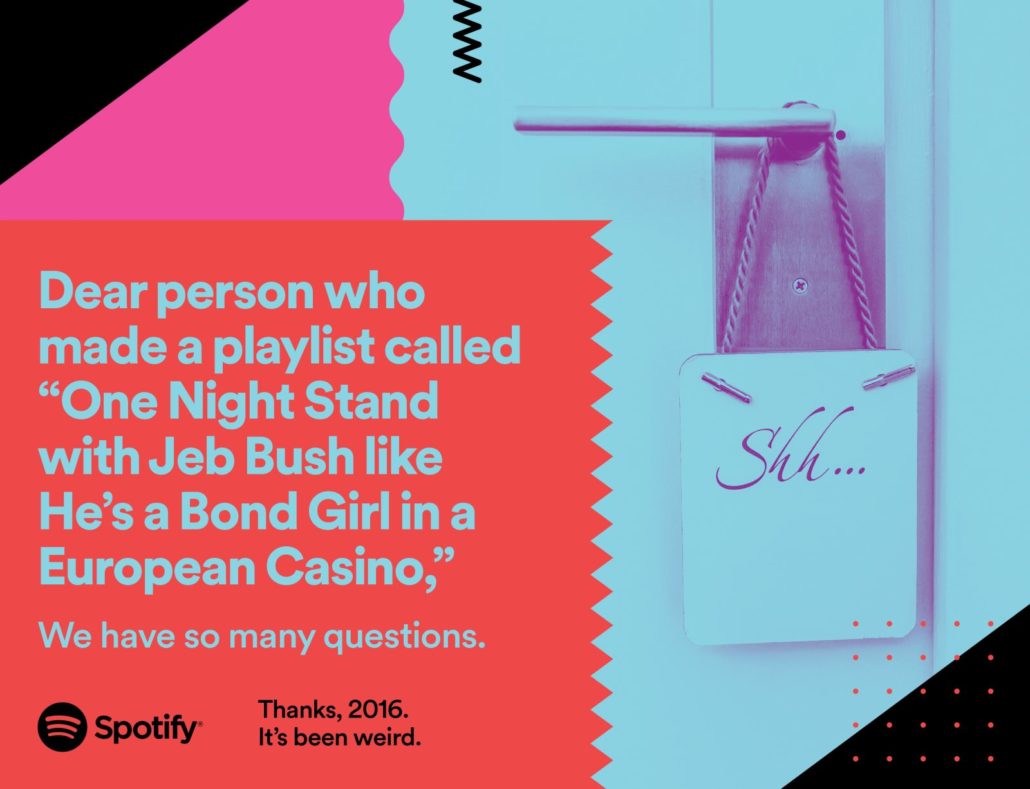 Relevant to the Time
Another brilliant aspect of this campaign was how it was relevant to the time. 2016 was a busy year in the world, and there were many celebrity deaths, unexpected political situations, multiple international crises, and a lot of other difficult or surprising events. Social media users had become used to blaming everything on 2016, and this campaign played right into that – in a non-depressing way. It even managed to take all that distress and turn it into something funny.
Billboards Going Viral
One of the common concerns about billboards is that they're not as likely to go viral as something that's easy to share online. This campaign helped prove that not only are billboards not outdated, but the number of digital cameras out there may make them more likely to go viral than an image saved on a website. A campaign has to be made correctly, but physical objects can be less likely to get lost in the noise.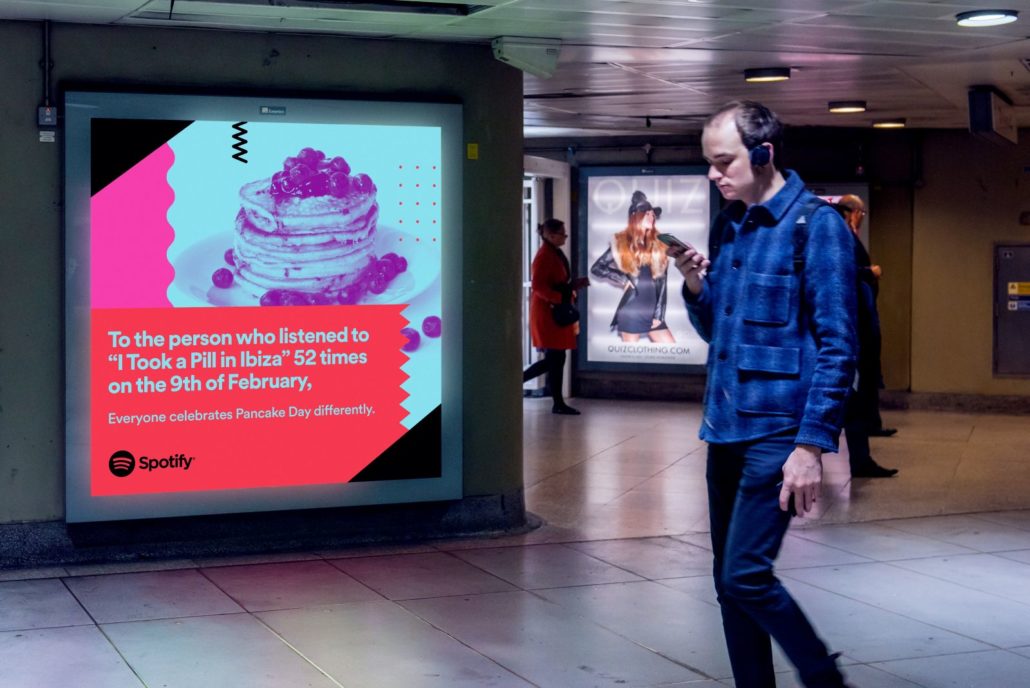 Big Data in a New Way
Speaking of going viral, this Spotify funny ads campaign used another buzzword that's popular in the internet era: big data. Many companies are gathering and cataloging massive amounts of data from their customers, and most are still trying to figure out what to do with it. This information is a dream for marketers and advertisers (especially in the online space), but this is a creative use of it that many hadn't thought of. Big data in an ironic way really stood out.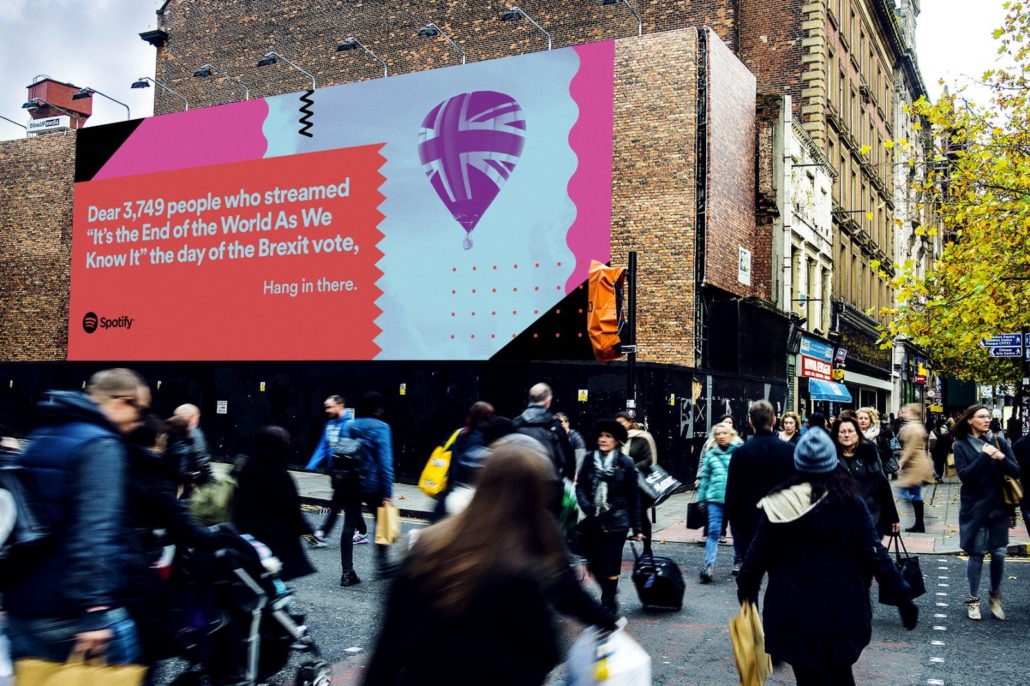 Grab Attention with Your Billboards!
This example with Spotify is just one of many recent campaigns where outdoor advertising was still going strong in the 21st century. It's often a good idea to balance it out with the other advertising media you use, but it can be a strong way to boost sales and build brands in many different industries.
Reach out to us if you have any ideas you'd like to discuss seeing on a sign, and we'll be overjoyed if it's a funny campaign like this that will spread the laughs around!
https://www.bmediagroup.com/news/wp-content/uploads/2017/04/Spotify-2018-Funny-Ads.jpg
478
850
AdminBMedia
https://www.bmediagroup.com/news/wp-content/uploads/2020/07/logo-bmedia-color.png
AdminBMedia
2018-02-20 08:30:27
2018-02-21 01:43:18
Spotify Funny Billboard Ads