So you want to know what the best beach in Puerto Rico? No matter where you travel, locals and tourists alike will claim a beach to be the best in the state, or county. All have reasons for their claim. Many are based on their own experiences.
Residents and tourists in Puerto Rico are no different. There is much controversy about how many beaches this island nation actually has. Some sources claim there are anywhere from three hundred to well over one thousand Puerto Rican beaches. The Government of Puerto Rico notes that there are 258 by their official calculations.
Best Beach in Puerto Rico Poll
In an attempt to answer this question, we conducted two polls. These polls include thousands of Puerto Rican local residents who were asked to name their top five beaches.
From that list of the top five, as shown on the graph below, locals were asked to pick only one. The winner was La Chiva.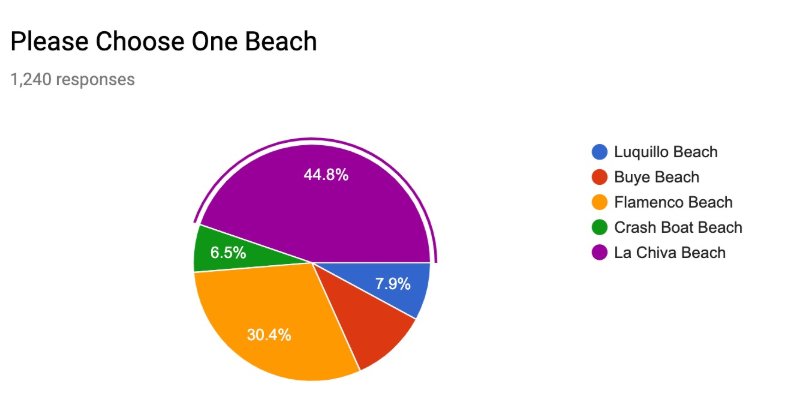 Why La Chiva Beach?
Previously known as Blue Beach, La Chiva has long held the title as one of the best beaches in Puerto Rico. It has been called a piece of paradise by locals and tourists. You can find it on Puerto Rico's smaller island of Vieques. This area is home to some of the region's best beaches.

Facts about La Chiva
Here are a few known facts about La Chiva Beach:
It received it's "Blue Beach" title when the US Navy was present in Puerto Rico.

The beach has two areas separated by large rocks.
If you are planning to spend the day at La Chiva, you'll be lucky enough to find shade; no need to drag along an unwieldy beach umbrella. However, don't count on finding sunscreen, snacks, books, sand pails and shovels. Come prepared with all your beach gear.
There are no retail sites anywhere on La Chiva Beach.
There are parking areas all along the beach. Aim for spots at beach entrances 10 through 17. If it is a windy day, a good rule of thumb is: the higher the parking site number, the calmer the water. Sites 10 through 12 give the best view of the water.

The Beauty of La Chiva Beach
If you are an artist, you could make La Chiva Beach a study in blue. The west end of the beach has waters ranging from deep turquoise to navy blue along the horizon. At the east end, colors vary from sky blue to azure. Shades and hues change with the weather and the time of day. 
Aptly named "Blue Beach," La Chiva has brilliant contrasting shades of blue unequaled by any other Puerto Rican beach. As a matter of fact, some tourists have called La Chiva one of the world's best beaches!

The Best Areas at La Chiva
The beach offers contrasts from west to east ends. It affords warm gentle waters in every season and a white-sand beach that is kept clean and natural.
This isn't your typical touristy, crowded beach. 
If you crave solitude then the west end of La Chiva Beach is a great spot to think, read, meditate, and just enjoy the scenery. The snorkelers head to the east end lured by the crystal clear blue waters.

La Chiva is a snorkeler's dream
Below the surface of its clear waters, avid snorkelers can explore an ocean environment rich in sea life and coral. You could spend entire days in the gentle waters investigating and studying this unique underwater world. If you are a novice or relatively new snorkeler, you might want to book a snorkeling class or take part in the many snorkeling groups available at La Chiva. 
An interesting sheltered snorkeling spots it the Cay at the east end of the beach. 
Activities at La Chiva
If you are not a snorkeler enthusiast, La Chiva provides excellent water for:
swimming

boating or fishing

scuba diving

hiking

kayaking
If you are not a water person, simply relax on La Chiva's beautiful white sand beach, or take a walk. La Chiva's white, pristine sands rank it among the top beaches in all of the Caribbean. 
Take a drive to the end of the road where you will see remarkable flora and fauna that cover Puerto Rico in lush green.
Waves are also small and gentle making it an ideal place for children to wade in the clear waters. 
Do you want to do some hiking? The Vieques National Wildlife Refuge has erected gazebos. These afford million-dollar views for walkers, photographers, and artists.

Scuba Diving at La Chiva
Near at hand for those who want to broaden your La Chiva Beach experience, you can book a scuba diving experience. Tours are available for both first-time and seasoned scuba divers. Instruction and certification are also available. Four-hour excursions are available from Ceiba. You can rent gear and wetsuits. 
See marine life including tropical fish, lobsters, stingrays, and sea turtles up close.
https://www.bmediagroup.com/news/wp-content/uploads/2019/07/best-puerto-rico-beach.jpg
600
600
Content
https://www.bmediagroup.com/news/wp-content/uploads/2020/07/logo-bmedia-color.png
Content
2019-07-30 21:49:50
2019-08-29 15:36:13
What is the Best Beach in Puerto Rico?